May 21st, 2017
Filed Under: News with 0 Comments
Calling all car enthusiasts

🚗

🚗

During this years Festival on Sunday the 4th of June we are hosting a classic car show on the promenade. So come along and let's fill the promenade

🚗

Entry is free ,
May 21st, 2017
Filed Under: News with 0 Comments
The date is fast approaching for our Vintage Day. Lots of attractions on the day & get the chance to see Marty Moone live on stage with a meet & great after!! We also have a jiving & social dancing competition. Its promised to be a great family day out

👍

Kinnitty Castle Hotel & Marty Mone
May 19th, 2017
Filed Under: News with 0 Comments
Limerick Classic Car Show 2017
Limerick Racecourse
Greenmount Park
Patrickswell
Co. Limerick
Sunday 28th May 2016
Exit 4 from M20 Motorway
GPS: N 52.59045 W 008.69632
May 19th, 2017
Filed Under: News with 0 Comments
FANCY A SUNDAY DRIVE??
THIS SUNDAY WE ARE HEADING FOR A SPIN DOWN TO THE ARBORETUM IN LEIGHLINBRIDGE
VIA GOWRAN
GORESBRIDGE
AND BAGNELSTOWN..
ALONG SOME NICE WINDING ROADS..LEAVING TUBS AND TILES AT 2pm
May 17th, 2017
Filed Under: News with 0 Comments
ONCE AGAIN WE ARE CALLING ALL FRENCH  VEHICLES TO OUR ANNUAL SHOW IN SAINT JAMES'S PARK KILKENNY. THIS HAS BEEN A GREAT SUCCESS  OVER THE LAST FEW YEARS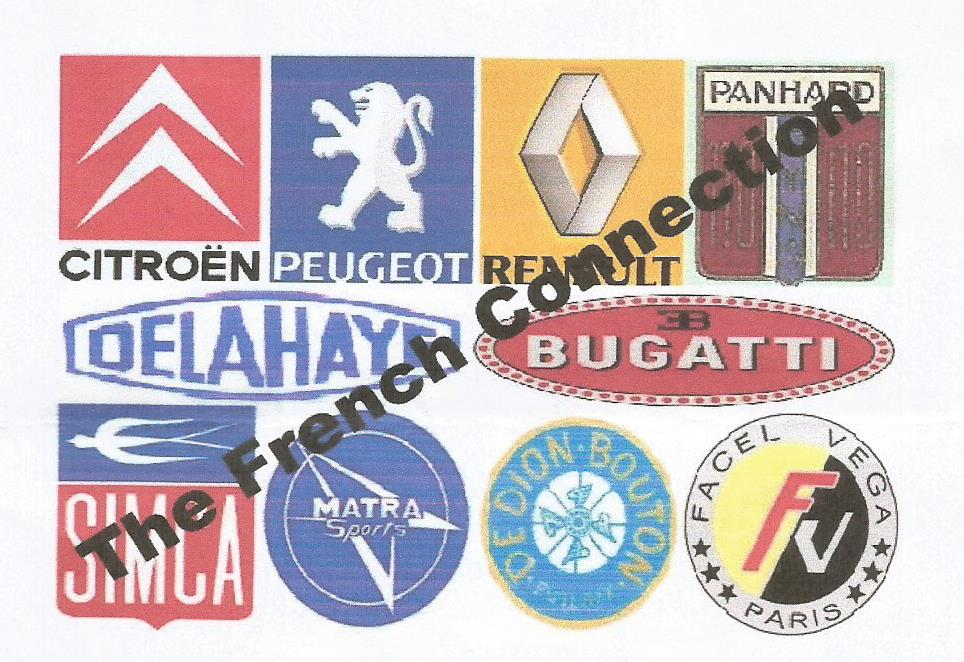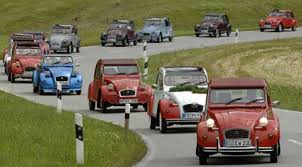 Ladies & Gentlemen , Once again I would like to invite all French Car Owners to our annual French Car Display at the Kilkenny Motor Club Annual Show. The Venue is the same , St. James's Park , Freshford Rd Kilkenny ( Opposite. St Luke's Hospital ) Sunday 27th Aug ( last Sunday in Aug) All individual French car owners as well as all the various French Car Clubs are welcome on the day . This Show and indeed display has been a tremendous success over the last few years with many familiar faces and new faces turning up each year and has now become known as the show of choice for French Car Owners to display their Vintage , Classic & Youngtimer French Vehicles . All French cars , commercials , Motor Cycles and indeed smaller tractors are welcome ….. Renault Citroen Peugeot Simca Alpine Matra I could go on …
For further details contact John… If thinking of attending please send text with name and car so I can gauge numbers as space is limited …..thanks
NB ……just as an idea , if anybody has any parts for French cars that they would like to sell / donate etc , why not bring them along on the day . You never know who might need something .
tel:0864067404
May 16th, 2017
Filed Under: News with 0 Comments
Hi all…. Just to remind you of our annual show in Walton park on Sunday June 4th. Your club always supports us in big numbers and we know that this year will be the same… We always look forward to your arrival as we look forward to your show in James park on the last sunday in August.. Any car on display at Walton park will receive a keep sake of the day. As always there will be a wide varity of attractions for everybody on the day so a great show is in store… see you there… Noel Coffey Yesteryear Motor Club Dungarvan Co. Waterford.
May 9th, 2017
Filed Under: News with 0 Comments
Dear Affiliate Member
We are all set for the IVVCC Festival of Transport in Punchestown which we have organised to include all our affiliate clubs and other transport organisations next Sunday and we hope that as many of your members as possible will bring their cars to the event or visit the festival on Sunday.
Car(s) being displayed should arrive at Punchestown before 8.30 am on Sunday morning, or alternatively cars can be brought there on Saturday as there is full security on Saturday night.   Ideally, affiliate clubs members should aim to arrive together to facilitate easy access.
The festival is open to the public from 10.00 am to 5 pm on Sunday and it will be a great opportunity to see some exceptional cars.  Come and see a special Super Car display, a Brass Display, Veteran, Vintage and Classic cars as well as other forms of transport, steam engines, motorbikes, etc.
Over 40 trade and autojumble stands are taking part in the event, all in an enclosed area, which will be of interest to many of our members.  As it will also be a family occasion there will be  amusements for children, bouncy castle, facepainting, etc.  There will be a variety of catering choices also available.
Tickets €10  may be purchased at the ticket kiosks on Sunday.
There is ample free parking in the general parking area for people who are not exhibiting a vehicle at the event.
We look forward to seeing you next Sunday in Punchestown.
Regards
IVVCC
The IVVCC is pleased to announce that we will be organising a very special event on Sunday 14th May to be held inPunchestown Racecourse, Co Kildare.
We believe that this event, which we are designating as the IVVCC Festival of Transport in Punchestown, will appeal to all historic and classic motoring enthusiasts, steam operated machinery and all forms of transport. This will be an attractive day out for the general public to come and see transport from the dawn of motoring up to modern classics.
The Festival of Transport is primarily a partnership between the IVVCC and our affiliate clubs. The Punchestown complex comprises indoor parking for 600 hundred cars and also outdoor parking for at least 1000 vehicles, so there is ample space to accommodate everyone. This venue is very suitable for this type of event, as weather mainly ceases to be an issue.
We hope that you will embrace this opportunity to become involved in an exciting festival and you should email:ivvcc.fot@gmail.com or Ph: 01-4016988 (office hours) for ticketing information.
We look forward to seeing you at this special event.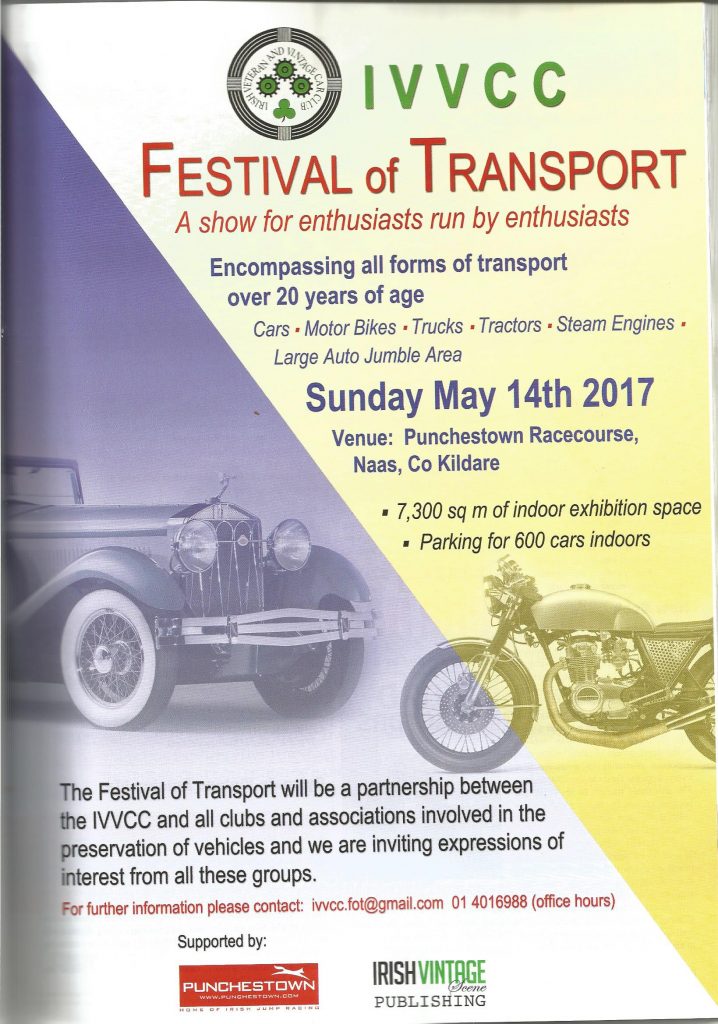 May 9th, 2017
Filed Under: News with 0 Comments
A get together on the first Sunday of every month at the car park in Applegreen Paulstown, just off exit 7 on the M9.
Come along and bring your car, meet and chat with other owners and enthusiasts over a cup of coffee and see what's hiding in people's garages.
All are welcome to pass a few hours and please share to all who may be interested
May 9th, 2017
Filed Under: News with 0 Comments
Carlow Vintage @ Classic Motor Club .Are holding their Annual Show ,Sale @ Family Fun Day on Sunday the 14th. May from 11am onwards At Ducketts Grove Carlow .Admission is Free.Loads of entertainment for everyone young and old .All types of Vintage Machinery Plus lots of stalls ,Side Shows,Dog Show lots of entertainment for the children .Live Music @ Line dancing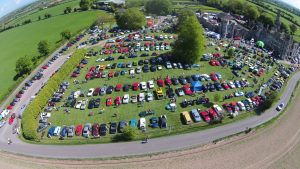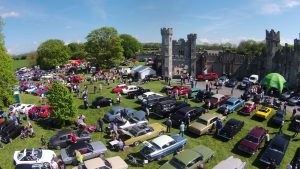 May 4th, 2017
Filed Under: News with 0 Comments