17.08.19
Filed Under: News
IF YOU ARE IN KILKENNY FOR THE WEEKEND OF OUR SHOW. WE HAVE A PRE SHOW DISPLAY ON THE GROUNDS OF KILKENNY CASTLE
FROM  12 NOON TO  4 pm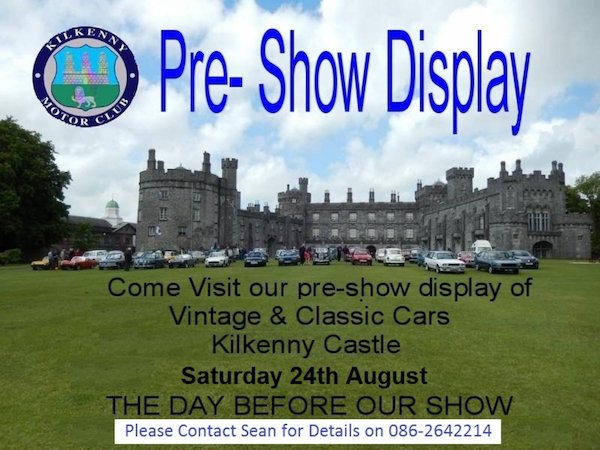 ALSO THERE WILL BE A STEAM TRAIN ARRIVING AT KILKENNY STATION AT 12.52  .IT WILL  DEPARTING AT  16 35.
Treat yourself to a look at vintage carriages from the early 1960s, travelling behind a vintage steam locomotive to the Marble City of Kilkenny.
Steam locomotive
No.85 "Merlin"
will be hauling the train on this trip.
ALSO  ON IS THE TOWN OF BOOKS IN GRAIGNAMANAGH
23rd – 25th August 2019
During the Town of Books Festival the medieval riverside town of Graiguenamanagh, Co. Kilkenny will be filled with over 30 independent Booksellers from 23rd to 25th August 2019.
It is the best place in Ireland to pick up a bargain in new, second hand, antiquarian, children's and specialist books.
The town of books Festival will feature many event readings and workshops for young and old, music galore and a host of tempting foods, crafts and entertainment.
DO NOT FORGET OUR SHOW THE NEXT DAY IN SAINT JAMES' PARK