30.04.19
Filed Under: News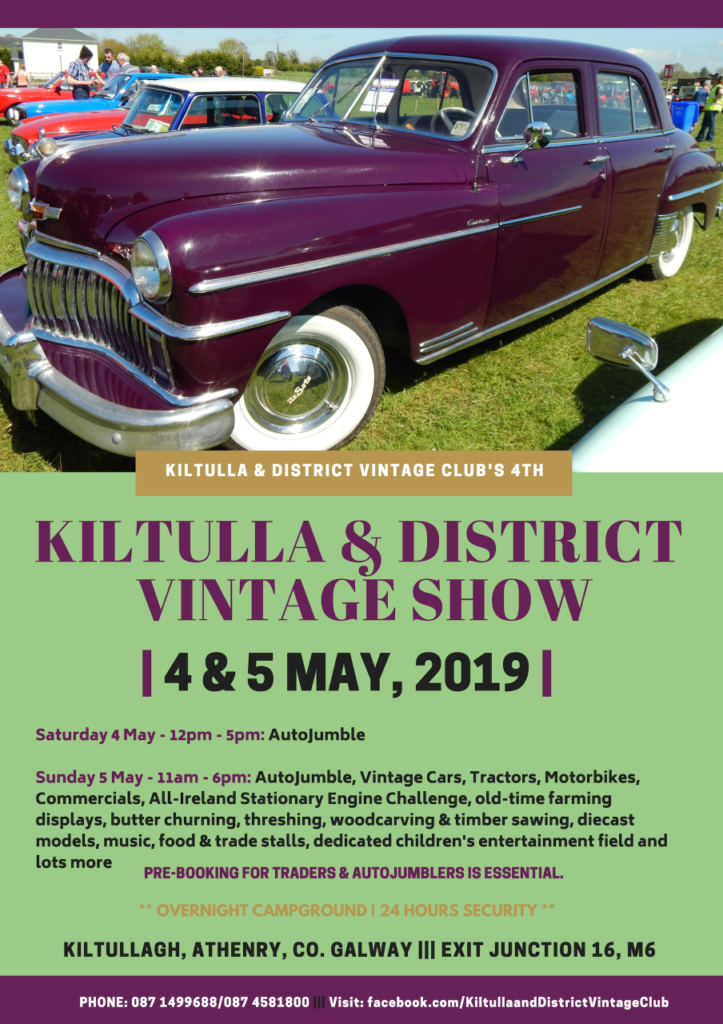 On behalf of Kiltulla and District Vintage Club, I would like to invite you to our 4th Kiltulla & District Vintage Show this weekend, 4th & 5th May.
Saturday 4 May: AutoJumble
Sunday 5 May: our main Vintage Show & Family Fun Day includes an AutoJumble, Vintage Cars, Tractors, Motorbikes, Commercials, All-Ireland Stationary Engine Challenge, old-time farming displays, butter churning, threshing, woodcarving & timber sawing, diecast models, music, food & trade stalls, dedicated children's entertainment field and lots more.
The show will run from 12pm on Saturday 4th, and from 11am to 5 p.m. on Sunday 5 May.
All clubs are very welcome to join our main exhibitor event on Sunday 5th May. Each exhibitor will be presented with our Kiltulla and District Vintage Show plaque, a meal voucher, and will have free entry into the show for their vehicle and one other occupant. Pre-registration is strongly advised, so we can plan in advance and to guarantee plaque collection on the day, which takes place from 4 pm.
For club exhibitors travelling, there is an onsite camping area, free of charge. A security firm will patrol the site from Friday night onwards. Pre-booking for traders and autojumblers is essential.
Many thanks,
Michelle
Michelle Mitchell, PRO
Kiltulla & District Vintage Show – 4th & 5 May 2019
Kiltulla and District Vintage Club
Kiltullagh, Athenry, Co. Galway (R348, Exit Junction 16, M6, Co-ordinates: 53.279538, -8.633574)  
Phone: 087 1499688/087 4581800