June 11th, 2021
Filed Under: News with 0 Comments
Great news for club members as we have our first club road trip in over 15 months this Sunday 13th June.
Club members will have received a text message giving details of where and when to meet up on Sunday morning.
If you haven't received a text please contact any committee member for info.
New members are very welcome, to join the club contact our club secretary David Dreeling on 087-676 9798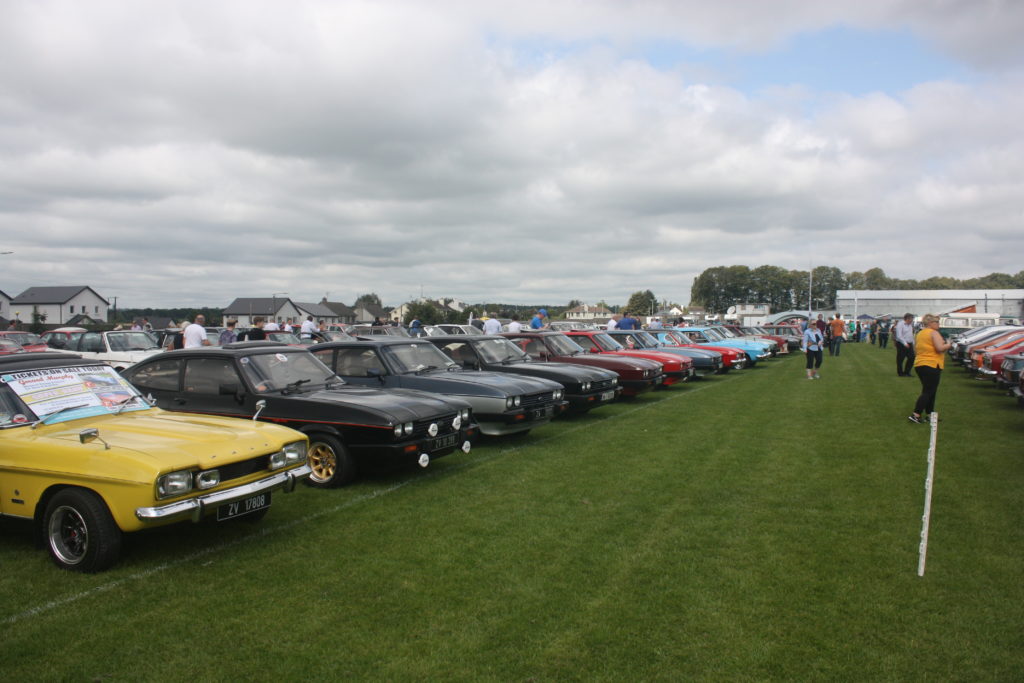 May 10th, 2021
Filed Under: News with 0 Comments
News..AUTOJUMBLE returns to Castleinch Venue Kilkenny
on Saturday July 3d
Eircode R95 DW92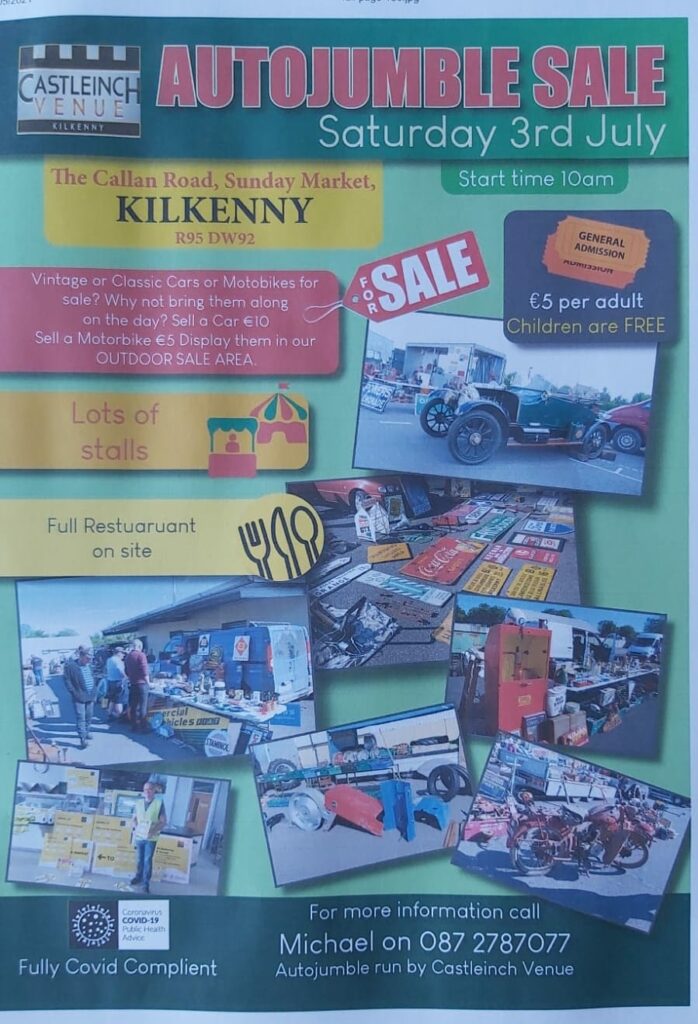 July 11th, 2020
Filed Under: News with 0 Comments
Autojumble on Saturday August 8th
at Castleinch Venue, Callan Road, Kilkenny. Eircode: R95 DW92
Stay safe everyone and keep washing those hands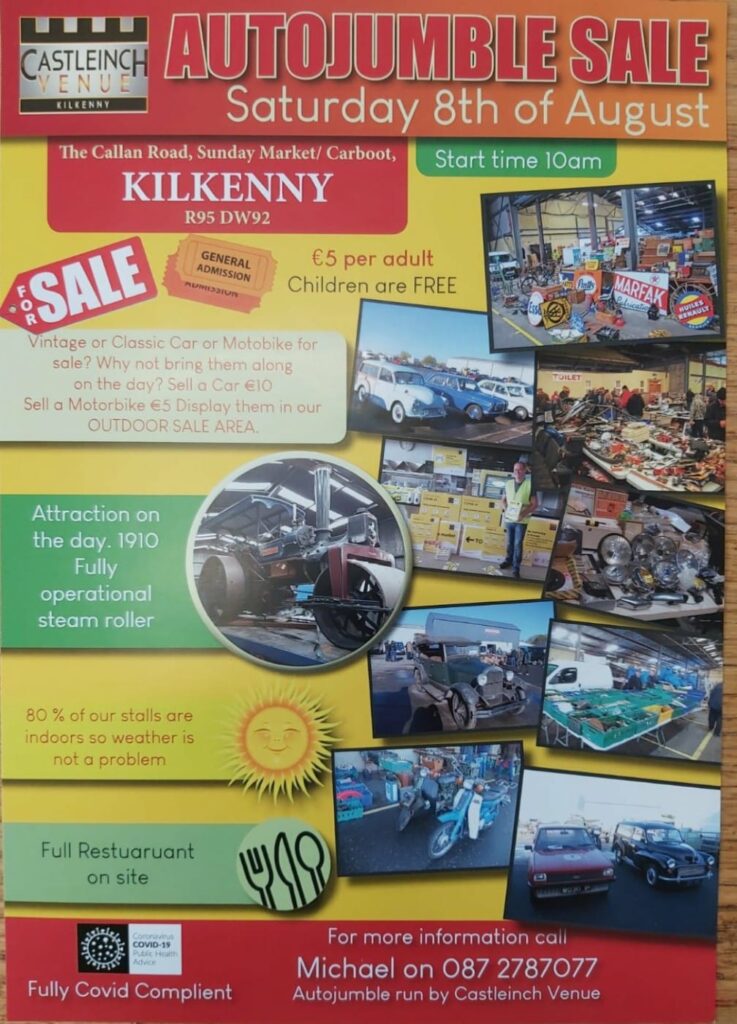 May 23rd, 2020
Filed Under: News with 0 Comments
With great regret we have to announce the cancellation of our
annual show which was due to the place on Sunday 30th August.
After discussions with our partners Kilkenny Sub Aqua Club and other interested parties, due to the ongoing situation regarding Covid 19 we have come to the conclusion that we have to cancel due to concerns for everyone's health and safety.
Fingers crossed for our best ever show when we return in 2021.
For our club members we are keeping a close watch on developments and will try to organise club runs and meetings later in the year, bearing in mind the safety guidelines and advice pertaining at the time.
We will keep all club members updated regularly via text message over the coming months as the situation regarding the lockdown etc develops.
In the meantime we wish all our members and visitors the best at this difficult time.
March 7th, 2020
Filed Under: News with 0 Comments
Kilkenny Motor Clubs AGM WILL take place this coming Tuesday night 10th March at 8.30 pm in Danesfort Community Hall. All members are asked to attend this very important meeting.
February 27th, 2020
Filed Under: News with 0 Comments
Due To unforeseen circumstances we have had to cancel the rescheduled AGM meeting due to take place on Friday 28 February.
We will announce a new date for the meeting as soon as possible.
January 31st, 2020
Filed Under: News with 0 Comments
ROAD RUN THIS SUNDAY , HEADING TO NEW ROSS VIA INNISTIOGE ONTO THE FOX AND HOUND BALLINABOOLA FOR LUNCH
,
HOME TRIP VIA THE NEW Rose Fitzgerald Kennedy BRID
GE AND BACK CROSS COUNTRY TO MIULLINAVAT ,
MEETING AT TUBS AND TILES 11am
January 17th, 2020
Filed Under: News with 0 Comments
JUST A QUICK REMINDER THAT OUR AGM IS COMING UP NEXT MONTH ON FEBURARY  11th  DANESFORT HALL…….ALL  WELCOME
January 13th, 2020
Filed Under: News with 0 Comments
I am emailing you in advance of the annual Cork Car Show. The show is now in it's 4th year and features classic cars, vintage cars, American cars and bikes. It will take place on Sunday 5th April from 11am-5pm.
Over the past 3 years, we have raised over €20,000 for our children's charities from the day long event. This year, we are raising money for the Rainbow Club – a centre for children with autism.
I am emailing to see if you would like to register your car/bike to be in the show? As Cork Airport provide the space each year in their holiday blue car park, I do need a guide number of space needed so would be thrilled to have you booked in, in advance. Obviously, it is free to bring your card, we only charge €5 for people coming to see the cars – all of which is for the charity.
Also – I would be so grateful if you would consider putting the poster beloe on social media and maybe share with members of your car club?
December 31st, 2019
Filed Under: News with 0 Comments
ROAD RUN TOMORROW TO TRAMORE,STOPPING FOR LUNCH ON THE WAY. MEETING AT TUBS AND TILES AT 11am….For more details give Niall a ring on 0862460508